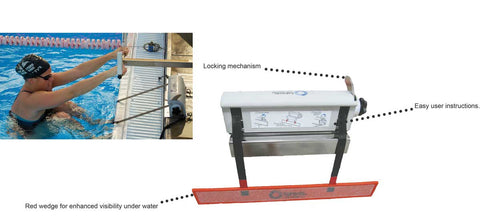 Backstroke Start Device
The backstroke start device (U.S. Patent No.  10,245,524) from Colorado Time Systems helps to eliminate slips at the start of a race.
Anti-slip foot backstroke wedge
Easy to set up
Automatically retracts up and out of the water
Robust construction
Adapts to most starting blocks
FINA, USA Swimming, and US Masters Swimming compliant
Prior to placing your order, be sure to complete the Required Measuring Guide and submit via email to: info@coloradotime.com.  Backstroke start device orders will not be processed without a completed measuring guide.
Contact us about this product: